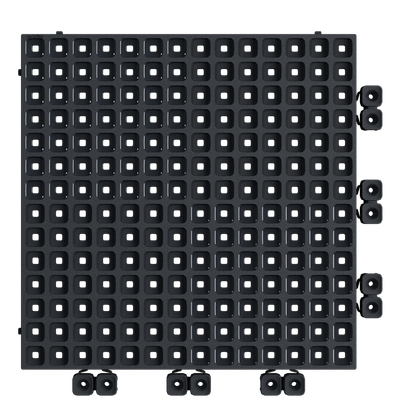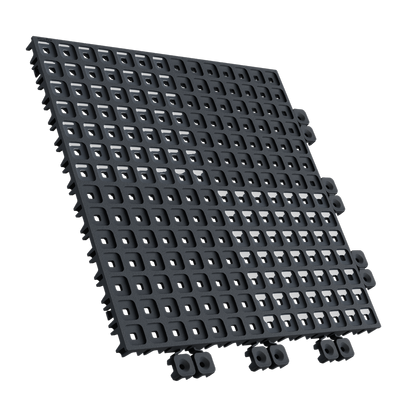 UPFLOR® - Dark Grey (pack of 9)
£43.00 – pack of 9 - 300mm x 300mm tiles
(Pack of 9 tiles covers 0.81 square meters. For reference cost per square meter is £53.00  excluding VAT)
UPFLOR® is a quick and easy-to-install flooring tile that provides a durable, anti-slip surface with drainage - ideal for garages, home spas, pools, outdoor use and many other applications - and can be customised with our range of accessories including our colourful mosaics and underfloor lighting kit.
Coloured Mosaics sold separately.
Product Dimensions:
Tile size: H:14mm x W:300mm x L:300mm
Pack coverage: 9 tiles cover approximately 1m²
Features & Benefits:
Quick and easy to install, simply clicks together (no tools or fixings required).

Open surface, allowing drainage ideal for spas & pools and general outdoor use.

Robust and durable.

Easy to hose down and jet wash.

Customise and personalise with push-in mosaics (sold separately).

Bright lighting effects when used in combination with our underfloor LED lighting kit.

Protects and insulates your floor surface.

Underfloor cable routing (up to 8mm diameter max).

Easy to move and update.

Can be used in combination with Taskflor.

Available in a range of colours.

3-year warranty.
Specification:
Material: Recyclable Polytrobe.

Individual tile size: H:14mm x W:300mm x L:300mm

Individual tile weight: 356g.

Anti-slip surface (Tested to BS 7976-2): Slip Risk Classification: Low (Dry 107 PVT, Wet 54 PVT).

Fire Resistance (Tested to EN ISO 9239-1:1210): Class Efl-s2.

25,000 Kg load capacity.

UV protected.
Need more help?
Every project is different- so if you would like to know more information than please follow the links below.
Buy a Sample Pack
The sample pack will allow you to see how our system works and understand just how robust and versatile it is.
Should you go on to place an order, you will be discounted the value of your Sample Pack.
FAQS & Contact
Our team are happy to answer any questions you might have.
There's no product quite like Versoflor so we understand you might want to get some more detail before you (inevitably) choose Versoflor ;)
Design & Quote
Fill out a few details about your project and we can help you design and build the right system for your space.
This service is free to use and there is no obligation to place an order.